Aleppo: Russia 'ready for talks' on rebel withdrawal as Syrian forces continue advance on besieged districts
Observers say more than 300 civilians have been killed since the advance started last month
Russia has said it is "ready" for talks with the US to allow for the withdrawal of rebels from eastern Aleppo as the Syrian government's advance continues.
President Bashar al-Assad's forces and allies from Russia, Iran and Hezbollah are estimated to have seized 60 per cent of territory formerly controlled by the opposition in a bloody campaign marred by allegations of war crimes on both sides.
"We are immediately ready to send out military experts, and diplomats to Geneva in order to agree mutual actions with our American colleagues to ensure the pullout of all the rebels without exclusion from eastern Aleppo," said Sergei Lavrov, the Russian foreign minister.
The United Nations and humanitarian groups have demanded safe passage for civilians to leave opposition areas amid fierce fighting and bombardment, with hundreds reportedly killed since the regime's offensive started last month.
Russia has demanded all "terrorists" – a term used by Syria to refer to all rebels – withdraw and calls by the UN for jihadi groups to separate themselves from more moderate elements have failed.
A statement published by an alliance calling itself the Opposition Council for Aleppo on Saturday denied making any agreement with the Syrian government or "other parties" and vowed to fight on.
Zakaria Malahifji, from the Fastaqim rebel group, told Reuters: "I asked the factions, they said 'we will not surrender'.
"The military commanders in Aleppo said 'we will not leave the city. There is no problem with corridors for civilians to leave, but we will not leave the city'."
Staffan de Mistura, the UN special envoy for Syria, said some rebel groups had been preventing civilians leaving their territory and told the Security Council he hoped a "formula for stability" could be found to end the violence.
He has called for the departure of any groups falling until the UN's definition of terrorists but days after a range of moderate, Turkmen, Islamist and jihadi groups pledged to unite against Assad's forces, that prospect looked less likely than ever.
Speaking at a conference in Rome, Mr de Mistura predicted eastern Aleppo could fall by the end of the year, saying: "Aleppo is not going to stay that long."
"I was feeling it would be a terrible battle ending up by Christmas/New Year. I hope the battle will not take place, that there will be some type of formula," he said, alluding to "informal negotiations".
Almost 30,000 people have been displaced by the fighting, 18,000 of them moving to government-held areas and a further 8,500 going to the Kurdish-controlled neighbourhood of Sheikh Maqsoud.
Tens of thousands are believed to remain in rebel-held eastern Aleppo, under heavy bombardment and with supplies of food, fuel and healthcare critically low after several hospitals were destroyed.
The UK-based Syrian Observatory for Human Rights said at least three people were killed and 10 injured by air strikes in the al-Shaar neighbourhood on Saturday, leaving several people in a critical condition.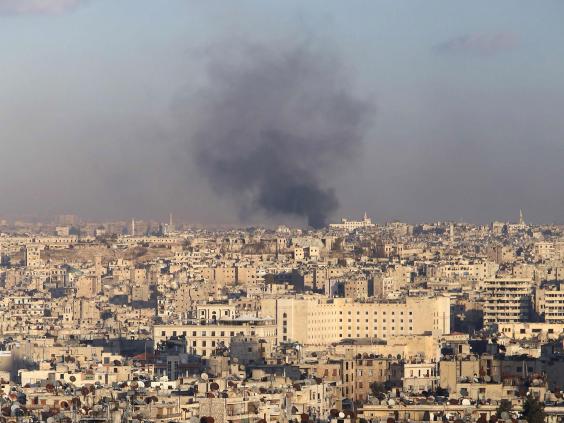 The White Helmets volunteer group said a gathering of displaced people had been struck and put the death toll at more than six, while Syrian state media said four civilians were killed in regime-held areas by rebel rocket attacks and shelling.
Around 310 civilians have been killed in the government's assault since 15 November, the  Observatory said, with at least 69 civilians killed in the same period by rebel fire on regime-held west Aleppo.
The Tariq al-Bab district was the main focus of fighting overnight, with rebels claiming they had repelled a government assault but photos showing soldiers flashing victory signs in its rubble-strewn streets.
Regaining control of Aleppo, formerly Syria's most populous city, would be a symbolic victory for President Assad's government in the fifth year of the civil war.
The government has gained ground elsewhere by reaching numerous local agreements with rebels in besieged areas, giving them safe passage to the insurgent-held province of Idlib in exchange for their surrender.
Federica Mogherini, the EU foreign policy chief, warned that Aleppo's fall would not end the war in Syria, where Isis, the former al-Qaeda affiliate Jabhat al-Nusra, Kurdish groups and numerous rebel factions are competing for territory.
"This will only make things worse and, by the way, I am convinced the fall of Aleppo will not end the war," she said.
"We will have other military escalations. So if a call to stop has to be made, it has to be made now, not tomorrow or in a week's time."
Source: Aleppo: Russia 'ready for talks' on rebel withdrawal as Syrian forces continue advance on besieged districts | The Independent