Isis 'retakes part of Palmyra' in lightning advance nine months after being driven out of ancient Syrian city
Militants enter suburbs just two days after launching 'surprise' offensive against Syrian army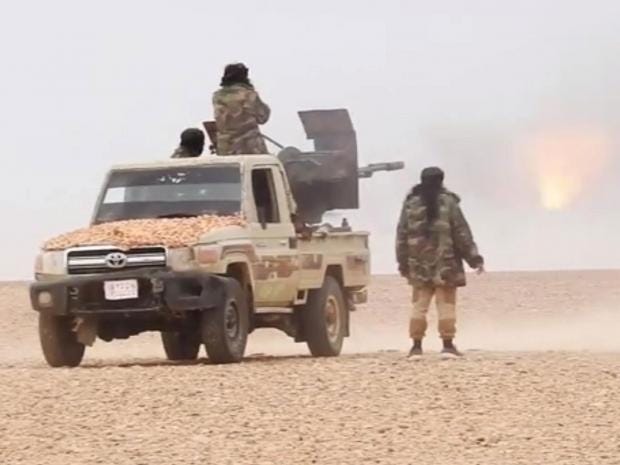 Isis militants have re-entered the group's former stronghold of Palmyra almost nine months after being driven out by the Syrian army, activists have said.
The group has been advancing on the ancient Syrian city since Thursday, when jihadis launched a "surprise" attack on Bashar al-Assad's forces and pro-government Shia militias to regain territory.
Regaining control of Palmyra would be a huge symbolic gain for Isis, following months of losses across Syria, Iraq and Libya.
Monitors with the anti-Isis Palmyra Coordination Committee (PCC) said militants approached from "more than one axis" on Saturday, fighting their way into the al-Amiriyah district before targeting the city's citadel.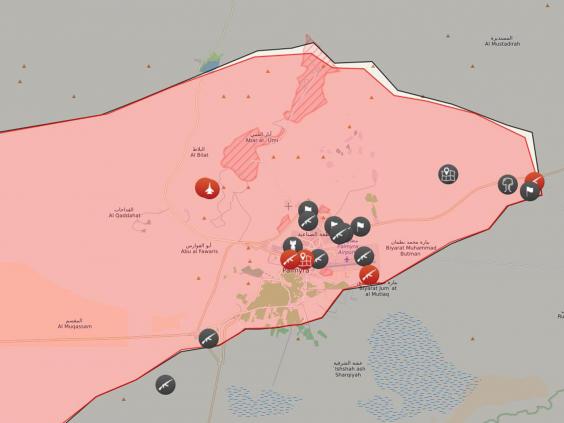 "Isis controls the northern and western north neighbourhoods of Palmyra," the group said, hours after reporting that jihadis had downed a Syrian government fighter jet in nearby Jazal.
The PCC added civilians were in a state of "fright and fear" as battles raged following the reported withdrawal of hundreds of regime troops and allied militia members on Saturday afternoon.
Activists have been warning of Isis's advance for several days, earlier describing a "fearful" mood in the deserted city centre on Saturday morning as families either stayed indoors or fled to other parts of Homs province.
Internet and phone services were still reported to be working as residents sought news of the ongoing battles.
Isis has been mounting a concerted propaganda effort to highlight the campaign as its forces are beaten back in its Iraqi stronghold of Mosul.
Amaq, the self-styled news agency controlled by Isis, released footage of battles appearing to show its fighters advancing against the Syrian army through the desert on Saturday, while videos sent out the previous day showed a huge suicide car bombing hit an army checkpoint on a road approaching the city.
Militants could be seen plundering a makeshift camp used by the army for supplies and weapons including guns, rocket launchers, shells and ammunition.
Isis claimed it had taken control of at least 15 army checkpoints as well as oil and gas fields in the surrounding desert, including the al-Muhr Gas Company, and seized several tanks.
The group's propaganda claimed its fighters – among whom it reported no casualties – captured areas including Huwaysis, Shair, Jazal and Jahar, killing around 200 Syrian army and militia members and taking several more prisoner.
According to the UK-based Syrian Observatory for Human Rights, however, up to 49 pro-government troops have been killed since the advance started on Thursday – far fewer than Isis claimed.
Syrian regime forces reportedly have the bodies of at least eight Isis fighters killed in battles – more are said to have been killed in air strikes and bombardment.
Regime planes and helicopters were continuing bombing on Saturday, the Observatory said, while enforcements were arriving to mount a counter-attack against Isis.
Isis overran Palmyra in May 2015, implementing its brutal interpretation of Sharia law on residents and using the city's famed ancient ruins as the backdrop for a series of gory executions and propaganda videos.
As well as murdering the city's 81-year-old director of antiquities, Khaled al-Asaad, militants proceeded to loot and destroy artefacts including the Temple of Bel.
Isis was driven out of the city in March following a long Syrian army offensive backed by Russian air strikes, but retained territory elsewhere in eastern Homs Governorate, which was used as a launchpad for its counter-attack.
The Syrian regime controls most of the province but its troops are regularly attacked by Isis insurgents in isolated areas, including in oil fields, which are difficult to protect.
The new battle for Palmyra was receiving little international attention as focus remained on the northern Syrian city of Aleppo, where the Assad regime is closing in on rebels.
International talks were held in both Paris and Geneva on Saturday as efforts continued to reach a solution allowing for the delivery of aid, and end to bombing of civilian areas by government forces – which US Secretary of State John Kerry called a "war crime".
While the UN raised concern over the disappearance of hundreds of men entering government-controlled areas, there were also reports of Islamist rebel groups preventing families from leaving their territory and killing or kidnapping those who resist.
Isis is not a party in the battle for Aleppo, but is currently defending territory elsewhere in Syria, including around the cities of al-Bab and Deir ez-Zor, as well as fighting against a huge international campaign to drive its militants out of the Iraqi city of Mosul.
Source: Isis 'retakes part of Palmyra' in lightning advance nine months after being driven out of ancient Syrian city | The Independent