13.6 million people displaced in Syria, Iraq: UN
Syrian rebels fighting IS say US military support doesn't allow advance: 'We can barely hold our positions'
13.6 million people, equivalent to the population of London, have been displaced by conflicts in Syria and Iraq, many without food or shelter as winter starts, the UN refugee agency said on Tuesday.
"The whole humanitarian community is facing shortfalls. People are becoming numb," said Amin Awad, who heads UNHCR's Middle East and North Africa bureau.
"Now when we talk about a million people displaced over two months, or 500,000 overnight, the world is just not responding," he told reporters in Geneva.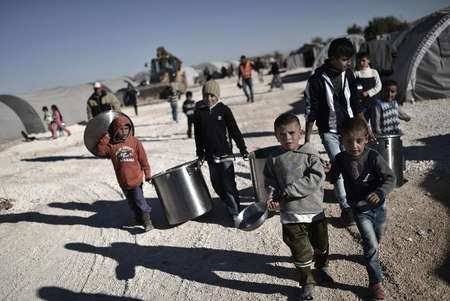 Aris Messins (AFP)
The 13.6 million include 7.2 million displaced within Syria – an increase from a long-held UN estimate of 6.5 million, as well as 3.3 million Syrian refugees abroad, 1.9 million displaced in Iraq and 190,000 who have left to seek safety.
The vast majority of Syrian refugees have gone to Lebanon, Jordan, Iraq and Turkey, countries which Awad said "are putting us all to shame" with their support for homeless Syrian families. "Other countries in the world, especially the Europeans and beyond, should open their borders and share the burden."
Limited achievements in Syria, Iraq
Meanwhile, Kurds battling the Islamic State jihadist group in Kobane were making advances in the flashpoint Syrian town on the border with Turkey, local officials and a monitor said Tuesday.
Top Kurdish officials told AFP their fighters were advancing "street by street" and voiced confidence that IS would soon be ejected from the town.
The Syrian Observatory for Human Rights, a Britain-based monitoring group, said the latest advances were mainly in the south of the besieged town.
"The (Kurdish) People's Protection Units (YPG) recaptured streets and buildings in the south of Kobane, after a fierce battle against IS that began yesterday (Monday) evening," the Observatory said.
The monitor also said the YPG and its Iraqi peshmerga allies shelled IS positions on Tuesday elsewhere in Kobane.
In Iraq soldiers battling the Islamic State group recaptured most of the town of Beiji, home to the country's largest oil refinery, state television and a provincial governor said Tuesday.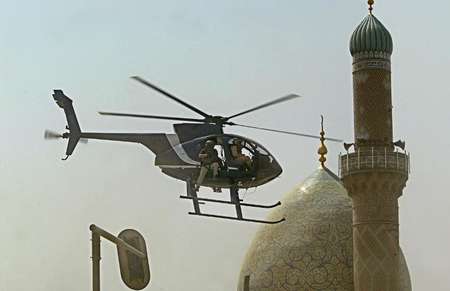 Yuri Cortez (AFP/File)
State television quoted the top army commander in Beiji, Gen. Abdul-Wahab al-Saadi, as saying troops recaptured Beiji's local government and police headquarters at the center of the town. It aired footage taken Tuesday of army tanks and armored personnel carriers moving around the town's dusty streets and a ball of white smoke rising in the background.
Raed Ibrahim, the governor of Salahuddin province, where both Beiji and Tikrit are located, said the military had secured about 75 percent of the town as of Tuesday.
And in Qatar, ruling emir Sheikh Tamim bin Hamad Al Thani warned that US-led airstrikes won't be enough to defeat "terrorism and extremism" in Iraq and Syria. Speaking to the Gulf nation's legislative advisory council, he said the policies of Assad's government and "some militias in Iraq" are the most important factors contributing to extremism in the two countries.
Despite limited achievements in the fight against IS and US President Barack Obama's strategy to arm and fund moderate rebels, The Telegraph, citing Syrian rebels, reported Tuesday that arms supplies are not delivered to them as promised.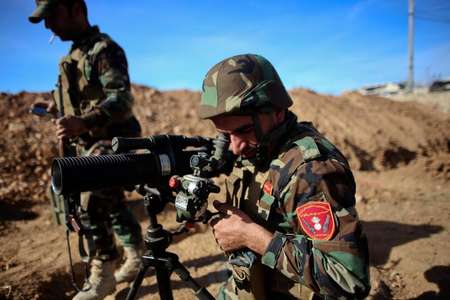 Ahmed Deeb (AFP/File)
Even when they received weapons heavier than rifles, they came encumbered with bureaucracy, the rebels lamented.
"We decide on the mission that we want to do. Then we apply to operations room for the weapons. If they agree with our military plan, some weapons arrive," Abu Ahmed, a commander with the nom de guerre, told the Telegraph. "If we receive TOW anti-tank missiles, we have to film every time we use one to prove that we haven't sold it on," he added.
Abu Majid, another rebel leader, said: "This level of military support does not allow us to advance. We can barely hold our own positions.
"The biggest weapons they give us are anti-tank missiles, and even then it's rarely more than a dozen in one go. The amount we get is random. Sometimes we request support and it comes but it's less than we need. At other times nothing comes at all."
The reason is, according to the Telegraph, "America's long-standing fear that weapons provided to the 'moderate' rebels will end up in the hands of jihadists" and al-Qaida.
http://www.i24news.tv/en/news/international/middle-east/50666-141112-13-6-million-people-displaced-in-syrian-iraq-un